CHRISCHRUSHER's PROJECTS:
Chris' Children's Book:

Chris' Graphic Novel:



Chris' Goofy Comic Book:



Chris' Family Comic Strip:

DRIVER PROFILE FOR KELLY MILLER (2005-2014)

Kelly Miller posing with the Galletta's Greenhouse #7 (and #9) before the start of the 18th Annual Galletta's Greenhouse Karting Klassic 200-Lap Championship on 10/6/2013 - A race he won, becoming only the 5th driver (counting Matt Stevens, Chris Stevens, Wes Stevens, and Kyle Reuter) in the 18 year history of the event to take the win!

Name:
Kelly Miller

Bio:
Multi-time Oswego Speedway Super Stock Car champion & veteran Supermodified driver Kelly Miller has been racing at the Galletta's Karting Club on and off between 2005 - 2014. He has won a few features, but by far his career highlight in Karting was becoming winner of the 200-Lap Galletta's Greenhouse Karting Klassic of 2013, leading most of it, changing a tire, and coming back to pass club founders and multi-time champions Matt and Chris Stevens to take the win, a feat very few drivers have ever done.

All-Time Points & Wins:
Find Kelly Miller's placement on the All-time career points and wins tallied at Galletta's Greenhouse Karting Speedway since 2005.

Karts:
Drove the Galletta's Greenhouse #0, 7, 4, 5, 6 and 9 karts (Formerly the Kyle & Kelly-Mobile # Super-9).
Tags: Kelly Miller, Kelly Miller Win
---
Career Highlights at Galletta's Greenhouse Karting Speedway:
---
2014
8/23/2014 - Not Enough Drivers = No Points / For Fun Race Night Twin 30s won by Kelly Miller & Adam Lytle


SATURDAY, AUGUST 23rd, 2014, OSWEGO, NY -
Due to a lack of camera operators and with only five drivers able to make it on track at the drop of the first green flag, a non-summer points twin-30 night was held. Kelly Miller (Galletta's Greenhouse #7) passed early leader Keith Raymond early on and won the 1st feature race, holding off Matt Stevens at the stripe, and Adam Lytle (Galletta's Greenhouse #9) won the 2nd feature, leading it from the pole position due to an inverted finish of the 1st. UPDATE: Due to locating the 2nd camera that showed the 2nd half of the 2nd feature, the race is now retroactively counted for summer points, but no laps-led points (not enough drivers). Oddly enough, as the club discussed how difficult it is to schedule and do a race for only a handful of people (usually 7 or more and at least one flagger and camera person is okay, 6 or less and no flagger or camera person is a waste of resources, money and time, not to mention nowhere near as much fun), Kelly - who does know how hard it is to put on a whole race (track, 20+ karts, cameras, points, arranging around people's schedules) - gave a passionate speech and that we should race no matter what, race earlier no matter if we don't have enough people, and we should never to wait for a few people, and do it for fun (no points or videos), and the people will eventually come. The following week, we only had ONE person who was coming (Kelly), and were forced to postpone the race a couple of days (and got 7 people a couple of days later). Kelly shockingly quit the club because of the postpone, just a week after saying he'll race for no points and just for fun, no matter what. Here for more.
---
2013
10/13/2013 - The 18th Annual Galletta's Greenhouse Karting Klassic 200 won by Kelly Miller in the Galletta's Greenhouse #7!!!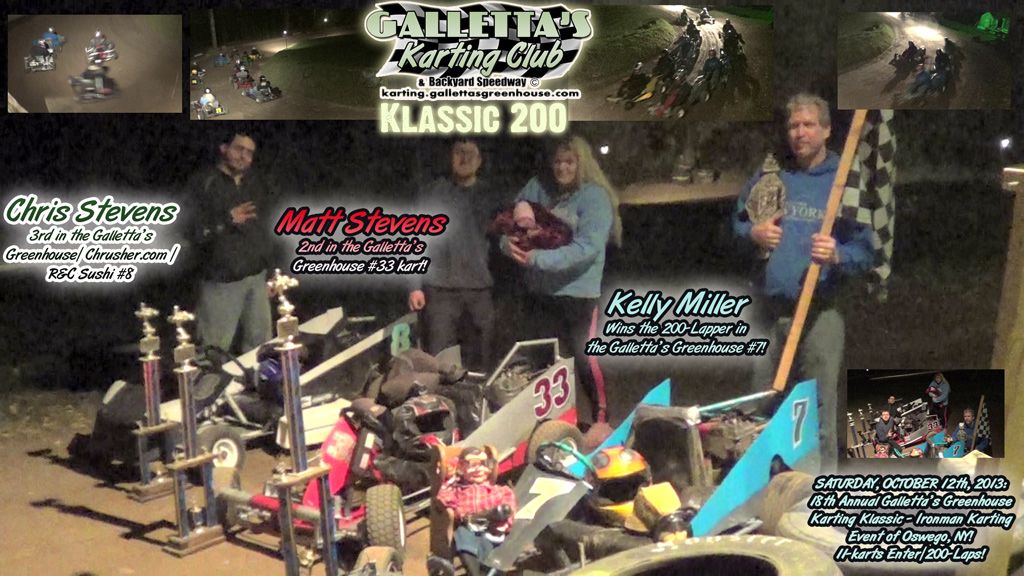 SATURDAY,OCTOBER 12th, 2013, OSWEGO, NY - OUTTA' NOWHERE! The 5th member of the Gallettta's Greenhouse Karting Klassic Championship fraternity is crowned! The longest-running Oswego Karting championship ran it's 18th annual marathon event, which decides both the point standings (best overall karter in the area), and also the best Iron-Man karter in the area. Eleven drivers entered but only three led all night (11 drivers?! That leaves several karts on site - including the timed fastest kart of the fleet - Galletta's #5 - unused?! For shame!!! And this is supposed to be a racing town?!) The three you see, Kelly Miller, Matt Stevens, and Chris Stevens had a duel of the ages, as they essentially battled back and forth for the lead for all 200 laps, with occasional challenges by Brian Galletta and Eric Woolworth. All three had the lead and lost it in breathtaking manners (Kelly led early and a slow leaking tired forced him to pit after getting passed, Matt hounded Chris and Kelly, took the lead, then slipped up and Chris got him back, and Chris led several laps late, got pinned and passed by both Kelly and Matt behind lapped traffic, and suffered a a bent sprocket that took him out of the top 2)! But the one who had it last - Kelly Miller, gets the win. He becomes only the 5th driver - Matt Stevens (won 10), Chris Stevens (won 5), Wes Stevens (won 1), Kyle Reuter (won 1) - in the Klassic's 18 year history to win the big one , all while only picking up his 2nd career win at Galletta's. Although many know him from both racing Stocks and Supermodifieds on the big track downtown, Kelly showed he knows how to drive more than just the big machines! And in a kart THAT SAT UNUSED waiting for a driver ABOUT 97% OF THE YEAR. Congrats to Kelly, congrats and thank you to all who showed, and to all who could've came out and didn't? On your knees, dogs. READ MORE HERE!
---
2011
O
ur 16th Annual Galletta's Greenhouse Karting Klassic 200 -Saturday, October 8th, 2011: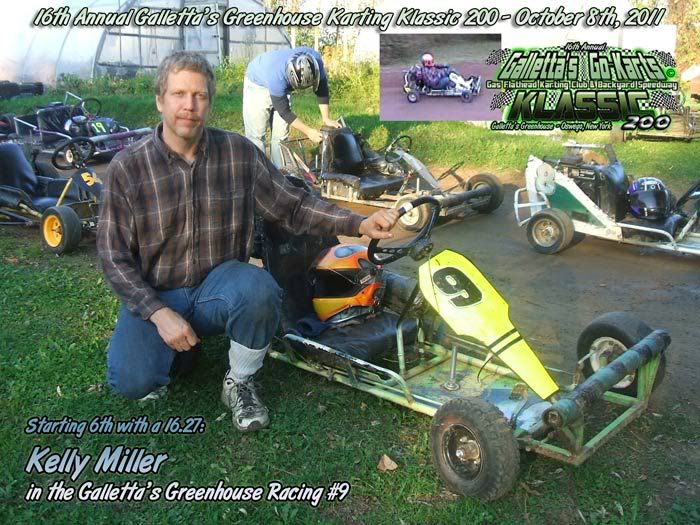 Kelly Miller before the 16th Annual Galletta's Karting Klassic 200 Lap Championship, driving the Galletta's Greenhouse #9.
SATURDAY,OCTOBER 8th, 2011:
A grueling 200 laps. But yours truly - webmaster
Chris Stevens
- broke a 10-year dry-spell bywinning his first Galletta's Greenhouse Karting Klassic since 2001 (while running almost on fumes)! It was not easy, as he time trialed 5th, and had to come from the back of the field twice when he blew a tire in 2nd early, then clobbered a tree in 2nd late. But everything fell his way when the leader of the first 157 laps of the race,
Matt Stevens
, decided to refuel putting Chris in the lead with barely sputtering off enough fumes to get him the win with Matt all over him. Several competitors didn't finish the marathon event, and the closeness of competition made this the
HARDEST
Klassic to date, with tough competition form first to last, including 2010 defending Klassic Champ
Kyle Reuter
(who lost a front wheel while in 2nd himself, crashed into the buckwheat in turn 2 and retired). For most of the first 100 laps, Kyle pressured Matt to set a fast pace, which in the end was the deciding factor that forced Matt to refuel with 43 laps to go, which put Chris - who made it back to 2nd for a third time in the race - in the lead. Chris actually benefited from blowing a tire early and conserving gas in the rear during the 2nd 4th of the race, which led to him having enough gas to take the checker, the first time the Galletta's #8 kart won a Klassic - Chris' previous Klassic wins came in the Galletta's #2 (1999) and Galletta's #5 (2000 & 2001). Chris has had several close calls in those last ten years (many 2nd and 3rd places, and a few bad luck breaks while up front in position to win). Outstanding show from start to finish with some close racing and a few exciting accidents to keep you viewers satisfied. Complete race videos on DVD only $5 each disc (or $10 per 3-disc set) and will be ready shortly. Meanwhile, here is a recap of the 2011 season thus far.
---
2010
2010 Season, Event #8- Monday, July 26th, 2010 - Driving the Galletta's Greenhouse #7 kart, Kelly Miller, braving a rough high groove, passed Matt Stevens and held him off from a near-pass to win his 1st feature race at Galletta's Monday. The usually fast high groove bumpy and made the low groove unusually the slightly quicker line to see Kelly become the 9th different winner of 9 features so far this season at Galletta's in 2010, a strength that shows our club's equalized karts! What makes this victory picture - featuring Kelly, his fiancee Vera, and his kart's mechanic Matt Stevens in it - so oddly humorous, is.... what the heck was Mike "MC" Howell and a just-showed up-after-the-race-was-over Eric Connors were doing in the pic, I'll never know.
---
2007-2009
Kelly only raced periodically, although it was not without some hilarity.



Kelly flipping the Super-9, a kart that just cannot stop flipping no matter who drives it.
---
2006

2006/09/23 - Photo by Gene Galletta, Remastered by Chris Stevens. Posing with the Galletta's Greenhouse Racing #0.
Years Racing Go-karts at Galletta's:
2005-current.

Career highlights:
Kelly is seeking his first Galletta's Go-Kart Club win, but is an experienced veteran driver at Oswego Speedway. He is a premier Street Stock driver with countless wins and hard-charging Supermodified driver. Kelly built the Super #9 for he and Kyle to drive, but so far - after several rebuilds - Ryan Coleman and Fred Collins have found the most success with the vehicle, as most drivers do not like it.

Kelly drives a few times every year, but tends to get too easily discouraged. He is a hard charger, and exhibits racing skills honed in years of racing Street Stocks and Supermodifieds, so it is not hard to say that the wins will come as long as he does not give up and gets more than a couple races per year in. Update: Kelly did finally get his 1st win on 7/26/2010.
__________________________________________________
Website by Chris Galletta Stevens - professional cartoonist, graphic novelist & affordable website designer:

Please buy Chris's new children's book (co-created and written by Robert Buchanan)
named, Tee and Wee: Health and Nutrition for Young Earthlings, ON SALE NOW:


Buy it or get a sneak-preview.
Chris' kid-friendly/family-friendly comic strip named Towner (with over 10 years of comics):



Chris' 2007 Graphic Novel, Chrusher - End Cycle:



Chris's 1988-1999 teen-to-adult comic book named "ChrusherComix" (with over 19 years of comics):

Galletta's on:


YouTube




Photobucket

XtremeFotos
(Under 'Yard')
Other racing websites:

Howard Seabrook Racing!



Oswego Speedway


Oswego Kartway