CHRUSHER's PROJECTS:
Chris' Children's Book:

Chris' Graphic Novel:



Chris' Goofy Comic Book:



Chris' Family Comic Strip: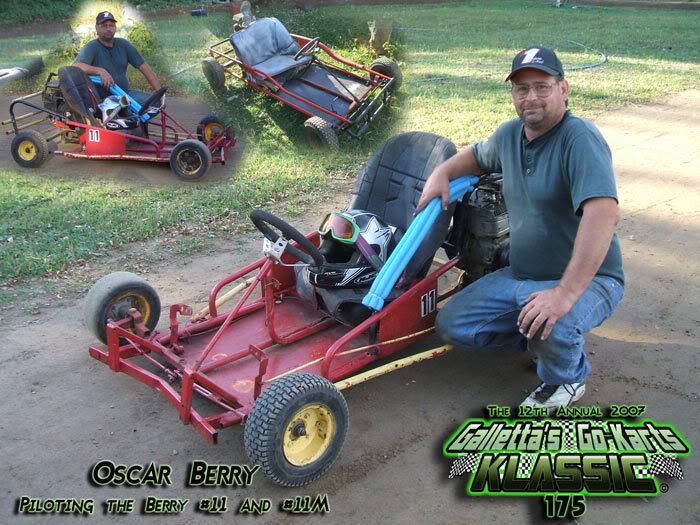 Oscar Berry with the Berry-Mobile #11 at the Galletta's 2007 Klassic (9/23/2007).
Name:
Oscar Berry

Name:
The Flyin' Oz

Karts:
The Berry #11 and Berry #M11. Has also driven assorted Galletta's Team karts on occasion.

Years Racing Go-karts at Galletta's:
2006-2007. Retired from Galletta's Backyard Speedway in 2008, betraying us for racing exclusively with the OHV Outlaws and then badmouthing us -- specifically Matt, the person who helped him get into racing -- publicly at the Kartway. Oscar switched from 1-WD Flathead Gas Stockers to 1-WD OHV Gas Animal Outlaws during the 2008 season at Oswego. He then switched to 2-WD Gas Clones at Oswego in 2009. Despite the fact that he believed Matt was always screwing him (or something?), he is still yet to get his first win since dropping the Galletta's series from his schedule years ago.

Notes:

Raced in more races and scored more points than any karter in Galletta's Points History that could not get at least one feature win.

Retired from Galletta's Backyard Karting Speedway - the track and race club that got him into kart racing - joined gas OHV classes and then berated Galletta's.

Joined the Clone class and never again raced at Galletta's, despite everybody at Galletta's liking him, helping him, and enjoying him racing with us. However, his streak of never winning, his equipment always breaking, and always getting mad at someone else has never ceased no matter what class he drives in.

2006/09/23 Pre-Klassic Picture - Photo by Gene Galletta, Remastered by Chris Stevens.
Racing Facts:
Often starts well, then runs into bad luck or mechanical failures that take him out of any quality finishes. Has more hysterical flips, spins and odd wrecks than almost every driver in recent Galletta's Karting History. Has a mind-boggling mastery of spinning out all by himself directly in front of people and getting mad at that person if they hit him, or having dozens of mechanical failures nearly every race and blaming it on the countless motors he blew.


One of Oscar's mind-boggling flips in '06 (2006/09/16).
Career highlights:
Time-trialed well in 2006 Klassic. Always runs well in the high groove. Seeking first feature win. His daughter Missy was a regular competitor before also retiring to only periodically race at Oswego.

Fun-Facts:
Oscar's family always helped flag at Galletta's, which we are entirely grateful for. His wife was always a nice woman who helped us greatly via flagging. However, we felt betrayed how Oscar stopped racing with us, verbally attacked us when we have always been nothing but nice and helpful to him, and retired to join Oswego's OHV Gas Animal class in '08, then joined Oswego's Clone Class in '09. .. (where at least one even mocked his driving skills behind his back before). (Although on the bright side, and since he did stop racing with us, it did lead to our races finishing MUCH faster - due to less yellow flags and repair-timeouts...) All kidding aside, our jokes at Oscar's expense are only because we (as in most of the Galletta's Karting Club drivers) felt betrayed by him stopping racing with us and accused us of breaking rules (nonsense, as many would always note how Oscar was always handicapped at the front of starts and he always had some very fresh, strong motors only to blow them repeatedly when nobody else was blowing even far older and weaker motors!) to ONLY race with people who never followed any rules when they raced us.
Chris Galletta-Stevens - professional cartoonist, graphic novelist & affordable website designer:

Please buy Chris's new children's book (co-created and written by Robert Buchanan)
named, Tee and Wee: Health and Nutrition for Young Earthlings, ON SALE NOW:


Buy it or get a sneak-preview.
Chris' kid-friendly/family-friendly comic strip named Towner (with over 10 years of comics):



Chris' 2007 Graphic Novel, Chrusher - End Cycle:



Chris's 1988-1999 teen-to-adult comic book named "ChrusherComix" (with over 19 years of comics):


YouTube

XtremeFotos
(Under 'Yard')
Race Index: